S 410 A: Fully-Automatic, Double Column Band Saw for Straight Cuts (16-1/8" Solid Round Bar Capacity)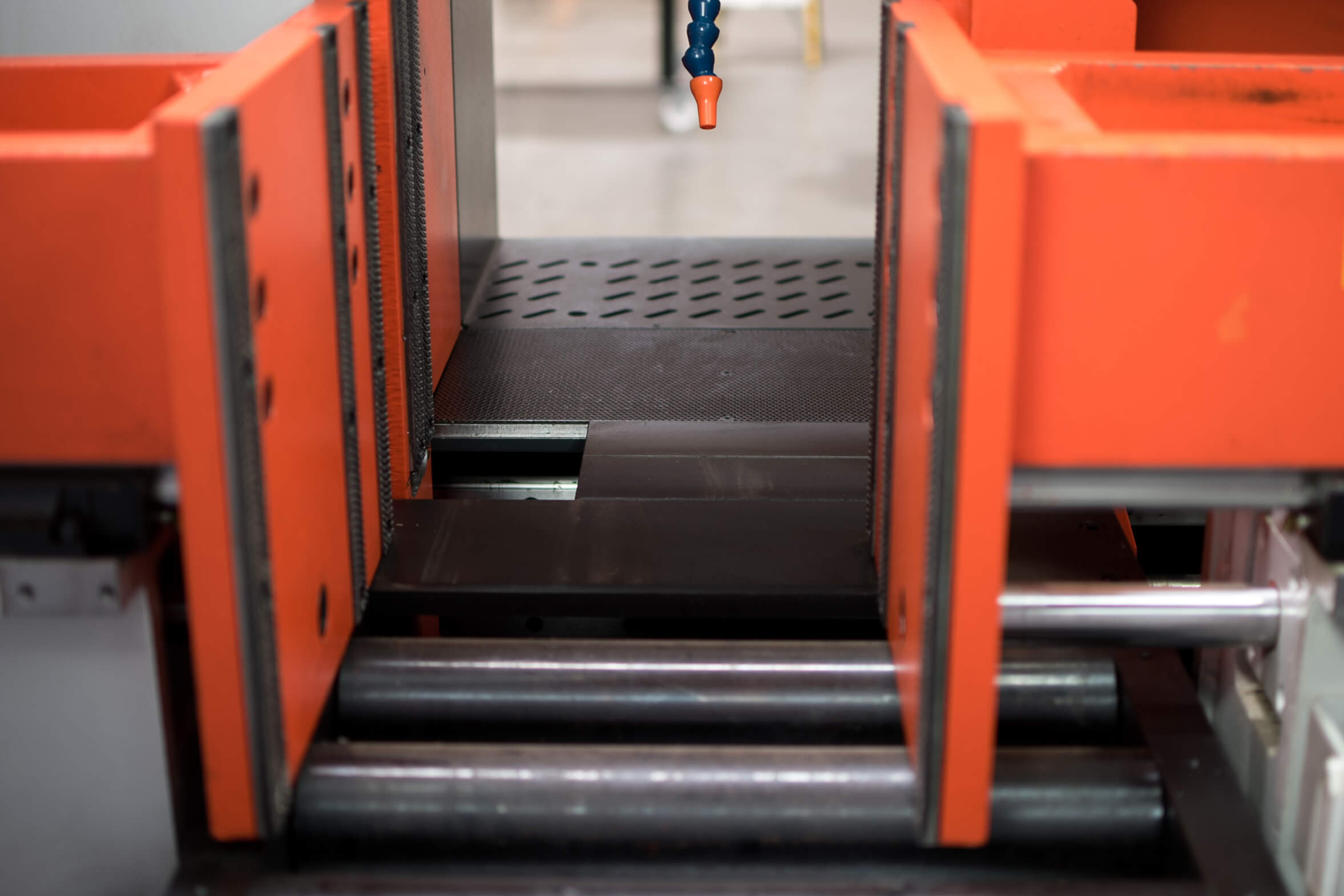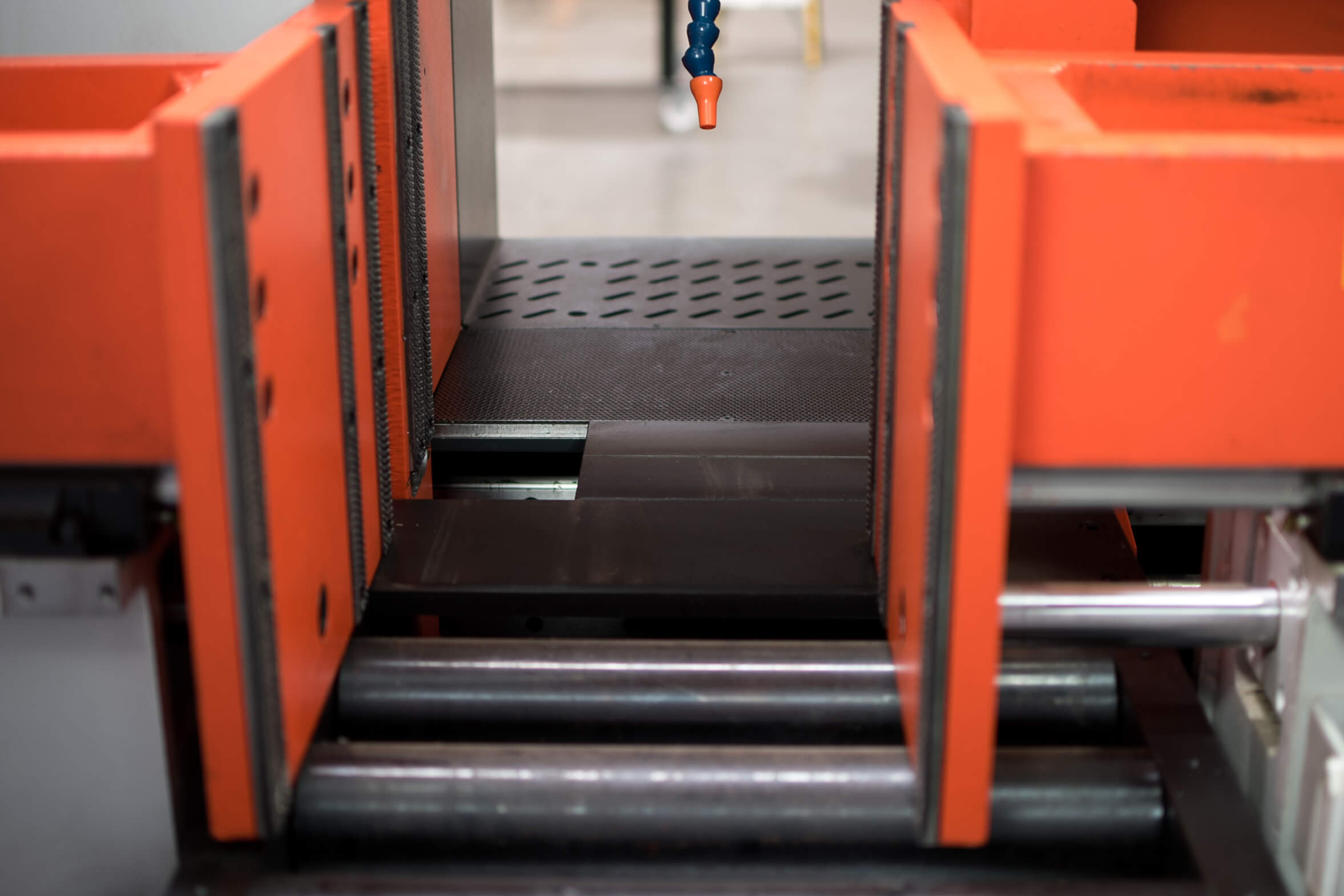 S 410 A: Fully-Automatic, Double Column Band Saw for Straight Cuts (16-1/8" Solid Round Bar Capacity)
Ready to place an order, or do you have any questions?
Call us at (909) 476-8007
The Quantum MACC S 410 A: Fully-Automatic, Double-Column Band Saw was manufactured with the focus on simplicity of use for the operator. This unit is equipped with a PLC Panel for the "Machine Logic" with a touchscreen HMI Interface and remote service connection to manufacturer service engineers - this features helps to reduce service time & costs. The essential basic characteristics of our Quantum S-410-A Fully-Automatic, Double-Column Band Saw (such as the rigidity of the blade support, the flywheel dimensioning, band saw blade guides, and band stretching) have been extensively studied thoroughly in order to avoid yielding of the band - ultimately increasing the S-410-A's durability above all other band saws of this size in the marketplace, and assists to improve the linearity of the cuts, as well as the cutting time. This unit is equipped with a Variable Speed Inverter and a Vice Pressure Regulator.
Equipped with Touchscreen CNC Control, Vertical Vice, Detour Control, Trim Cut Set Up, Automatic Chip Conveyor, Band Cleaning Brush and Vice Pressure Regulator.
QUANTUM MACC S-410-A BAND SAW CUTTING OPERATIONS AND CAPACITIES:
Solid Round Cutting Capacities:
Solid Round Cutting at 90° (Straight Cut): 16-1/8"
Solid Square Cutting Capacities:
Solid Square Cutting at 90° (Straight Cut): 16-1/8"
Operation:
Cycle start is obtained by pressing the relevant start button.
The machine performs the following operations during the cutting cycle:
Material Feeding via Step-Feeder.

Vice closing and activation of band motor. (Fixed vice lock.)

Rotation of the blade and delivery of the coolant.

Head/Bow Down Feed until the finishing of the cut.

Feeding carriage will return until the it reaches the programmed location.

Head/Bow Return to initial position. Blade Revolution and Coolant Delivery will stop.

Vice will open.

Cycle Repetition.
Notable Features/Specifications:
Equipped with Touchscreen CNC Control, Vertical Vice, Detour Control, Trim Cut Set Up and Vice Pressure Regulator.

The S 410 A has a fully enclosed design in order to guarantee the highest safety and a clean and healthy work place, all the while, allowing easy access to the inward sections/parts of the machine.

The index movement is executed by the use of a precision ball screw and electrical motor.

The same frame descends on a two/dual post/column system with linear guides and re-circulation ball guides.

The movable blade guide has automatic positioning in order to keep the blade guides as close as possible to the material for cutting efficiently.

A Hydraulic Blade-Tightening System is placed on the idle wheel.

This unit is equipped with carbide tip inserts and large diameter bearings on both blade guide units..
Cutting Range: 90° Straight Cuts

Band Saw Weight: 6,200 lbs. (2,800 kg)

Adjustable Stop for cuts of the same size.

Maximum Vice Opening of 430 mm (16.92")

This saw can run at 2 different speeds (0-100 Feet per Minute)

Pedestal with chip collection tray and removable tank for coolant.

Blade Size Dimensions: 5500 x 41 x 1.3 mm (217" x 1.61" x 0.051")

Electrical Options Available: 220 Volt / 3 Phase, 480 Volt / 3 Phase

0.06 kW Power-Driven Pump for band cooling and 24V Low-Tension Plant.

Strong band guides with tight stress-raiser bearings and adjustable widia tips.

Band stretching is obtained by electro-mechanical blade tensioner with micro switch.

Accident-preventing devices on the flywheel casing, on the control handle, and on the blade.

Italian Made Band Saw - Parts for our Band Saws are stocked in the U.S.A. at our Quantum Machinery headquarters.

S-410-A Band Saw Overall Dimensions: 87" Height x 107" Length x 79" Width (2200 x 2700 x 2000mm Width)
REQUEST QUOTE FOR THE S 410 A: FULLY-AUTOMATIC, DOUBLE COLUMN BAND SAW
QUANTUM BAND SAWS CURRENTLY IN OUR "IN-STOCK SPECIALS" AND READY FOR IMMEDIATE SHIPMENT
Current Machinery & Welding Table Specials
Apply for Credit today and see how much you qualify for within minutes!