MC400: NARGESA Roll Bender / Section and Pipe Bending Machine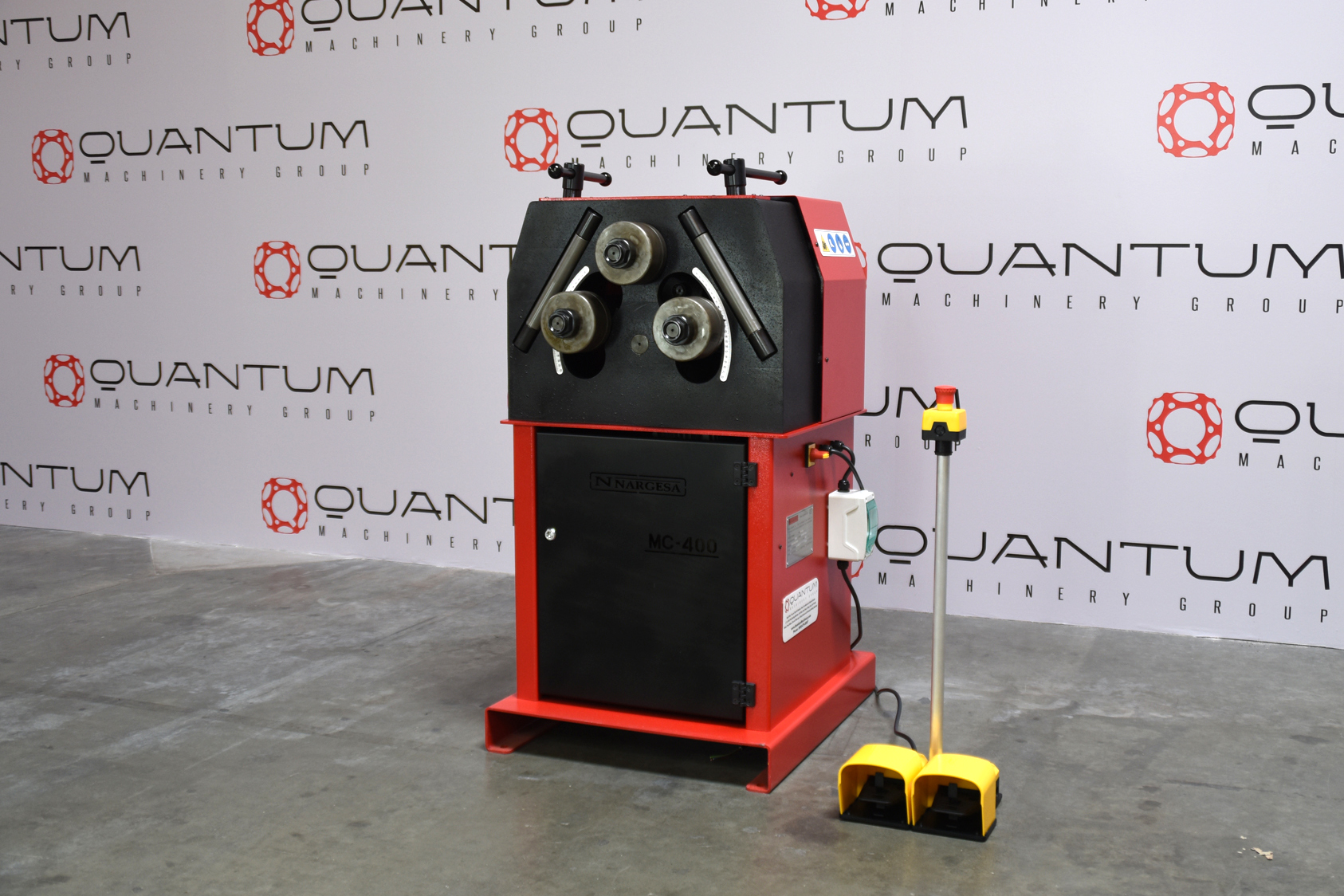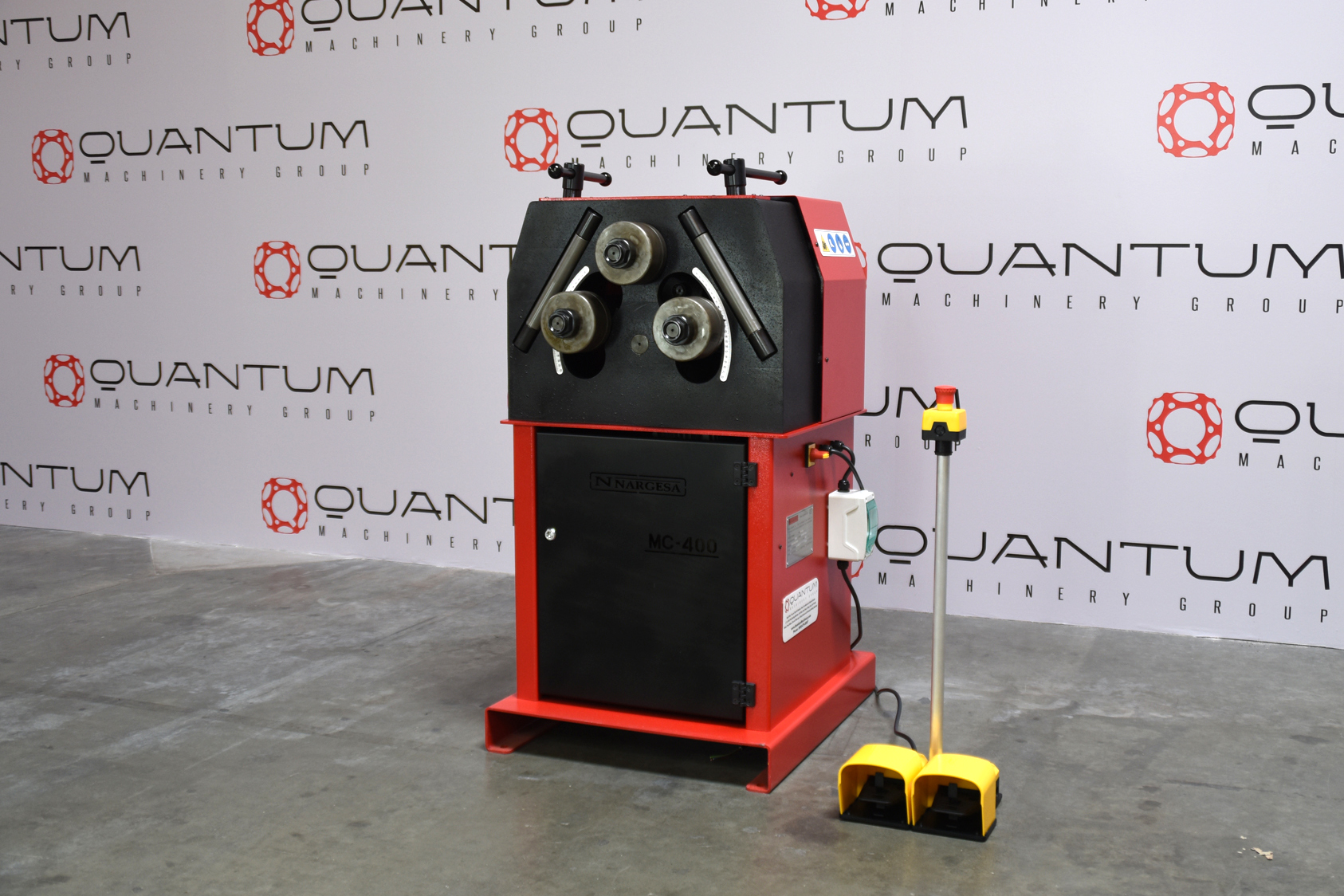 MC400: NARGESA Roll Bender / Section and Pipe Bending Machine
Price: $9,800
Electrical Options:
220V / 3PH / 60Hz

480V / 3PH / 60Hz

220V / 1PH / 60Hz

115V / 1PH / 60Hz
The Quantum Nargesa MC-400 Section and pipe bending machine is made of welded and mechanized steel sheet. Unlike the others, this one is not made of cast iron. Ideal for making flanges, greenhouses, balausters, tables, chairs, doors, windows and many more... making a great number of circular shape in profiles of all kinds. Its robustness, axis diameter, reducer capacity and other features, make it one of the best bending machines in the market, within the category of two traction rollers. All Quantum Nargesa products are according to the European directives and regulations CE regarding manufacturing of industrial machinery.
All Nargesa products are manufactured in our facilities in Spain. Hydraulic and electrical components are completely standard and from the the best leading European trademarks which have technical support all around the world: Rexroth, Bosch, Roquet, Schneider Electric, LG, Telemecanique, Pizzato etc...
THE MC400 BENDING CAPACITIES:
Solid Round: 1.15" with a Minimum Radius of 6" Inches

Solid Square: 1.15" x 1.15" with a Minimum Radius of 6" Inches

C-Channel (Easy Way): 2.25" with a Minimum Radius of 9" Inches

C-Channel (Hard Way): 2.25" with a Minimum Radius of 9" Inches

T-Channel (Easy Way): 1.5" with a Minimum Radius of 6" Inches
Round Tube: 2.5" x .120" with a Minimum Radius of 18" Inches

Square Tube: 2" x 2" x .120" with a Minimum Radius of 24" Inches

Angle (Leg-Out): 1.5" with a Minimum Radius of 8" Inches

Flat Bar (Easy Way): 3.15" x 0.75" with a Minimum Radius of 6" Inches

Flat Bar (Hard Way): 2" x 0.39" with a Minimum Radius of 10" Inches
*Please Note - Minimum Radii shown may require multi-pass. The sizes shown above are the maximum capacity with minimum radii. Round Profiles and Special Profiles shown above will require dedicated tooling. When bending smaller sections, the machine will be able to bend very small radii.*
The MC400 Features and Specifications:
Rollers Speed: 7 RPM

Diameter of Axes: 1.5"

Diameter of Rollers: 5.1"

Useful Axes Length: 3.1"

Motor Power: 1.1 KW / 1.5 HP

Steel treated and rectified axis.

Dimensions: 29.1"L x 25.5"W x 29.6"H

Base cupboard for rollers and accessories.

Millimeter scale for bending in the upper shaft.

Center distance between lower Axes: 11.25"

Secure transmission by using flat hardened pinions.

Maximum capacity for bending round pipe: 2.5" inches or 63.5 mm

Three drive rollers. The two lower rollers are motorized and knurled for better grip.

Lower bench palletized to easily transport the machine to the workplace or store it in case of lacking space.

Correction rollers on the sides to control the bending deformation when making spirals and spiral staircases.

Bending regulation by the upper shaft, which allows to curve tube and profile dimensions and profiles of large diameter without deformation.

We supply the section bending machine MC400 with 9 rollers and standard washers, that can be combined and make all kinds of profiles. (Square pipe, rectangular, square bar, round and rectangular bars, U profile, T profile, angle, flat bar, edged bar ...) It is only for special round pipes when we need special rollers.

The MC-400 is offered in two different working positions, horizontal and vertical. You must specify which style you would like, as the machines can be made to order, and must be brought in the way the customer requested. If customer does not specify, as a standard, it will come in the upright position.
Standard Tooling Configuration:
The MC-400 is equipped with 9 standard pieces, by means of which the user can work all kinds of profiles. Square, Rectangular Tube, Square Bars, C-Channel, T-Channel, Angle, Flat Bar, and Edged Flat Bar. Adjustable rollers, by washers with the size of profile which allows us to make bending to different profile sizes.
When the user has to bend any kind of profile at radius wider than 6.5 feet or if there are height problems in the facilities, it is really uncomfortable to work vertically. It will be enough with just bending the machine down so the bending operation is made horizontally with the help of a support or stands where we place the piece in order to obtain an acceptable job. For instance, when you need to bend arches for a greenhouse.
REQUEST MORE INFORMATION ON THE MC400 BENDING MACHINE
REQUEST MORE INFORMATION ON THE MC400 BENDING MACHINE
Ready to place an order, or do you have any questions?
Call us at (909)476-8007